About The Jamestown Yacht Club
Check out our proud history of Commodores.
Also, see the JYC Awards over the years.
Some articles in the JYC past.
Activity notes from: 2018, 2017, 2016, 2015, 2014, 2013, 2012. 2011, 2010, 2009, 2008, 2007, 2006, 2005, 2004, 2003, 2002, 2001, 2000, 1999, 1998, 1997.
| | |
| --- | --- |
| The Jamestown Yacht Club (JYC) was founded on Conanicut Island in the Narragansett Bay of Rhode Island in 1977 by a group of people that were interested in boating, cruising and sailboat racing, and desired a family atmosphere in both boating and social events. The Jamestown Yacht Club remains today a family-oriented yacht club centered around the Conanicut Marina. | |
| | |
| --- | --- |
| | West Ferry, coming back from 13-14 July 2002 Block Island Cruise. Notice how fast it looks. |
| Family Day at Potters Cove | The original basis of the Club was no pretexts, little formality, no physical property, and plenty of socializing and fun. |
| | |
| --- | --- |
| Every year the JYC plans a two week Cruise out of the bay as well as a Block Island weekend. | |
Our racing program has developed into one of the most active on Narragansett Bay with Spring, Summer, and Fall PHRF series. There are both Spinnaker and Non-Spinnaker classes which provide both fun and competition for novice as well as the experienced sailor. A Crew Rotation Race is held which gives the crew the opportunity to participate in every position on the boat. A race we call the "Overnight Race" is held, either around Prudence Island or around Conanicut Island, which depending upon the wind can take all night or finish before midnight. The JYC also sponsors the popular JYC Fool's Rules Regatta where anyone puts together a "non-standard" sailboat and then tries to race it a short distance.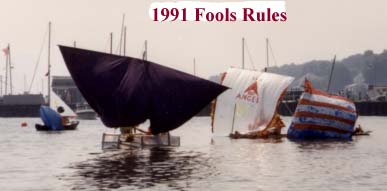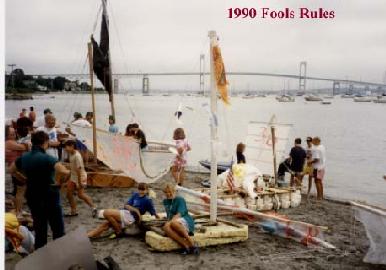 A "Challenge Race" is held every year between the Jamestown Yacht Club and the Conanicut Yacht Club. This rivalry only exists on the water that afternoon, as we all sail together throughout the season.
Although we lack traditional yacht club facilities, we make up for this in our Activities and Enthusiasm. Club Racing, Cruising, and Social Events are only a few of our activities. During our Racing Season, Socials follow the Tuesday night races. Everyone, racing or not, is welcome to join us at the Jamestown Country Club, just a short walk from the Conanicut Marina.
Go back to the Main Page
---
Created by Roy Guay - updated 23 January 2019